Fly Low Collect Dough Update Hotline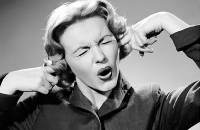 Why did I put a picture here of a woman covering her ears?
It has to do with the following guy... Let me explain.
It's to do with why you'll want to know about - and learn from - Gordon Jay Alexander... and why it will be good for your bank account!
Gordon is a "student of the masters" - and spent years learning in person from marketing and entrepreneurial geniuses like Joe Karbo ("The Lazy Man's Way to Riches"), Ben Suarez ("7 Steps to Freedom"), and Harvey Brody (founder of the concept of "toll positions")


He worked with two top direct marketing firms, each doing hundreds of millions of dollars in sales per year. He worked in virtually every position - he knows how this works from the inside out, top to bottom.


He worked as a professional direct-response copywriter, both as a freelancer and for large direct response marketing companies.


He has started and run many of his own successful businesses - such as...



His Off-Key Singing Telegram business (during his college days), where he was making $1,000 bucks a day (the woman at the top could have been one of his customers!),


Jay's Golf Court (golf instruction, where he hired PGA Pros to teach the customers),


Resumes Plus (where he guaranteed customers that they would get the kind of job they wanted),


He coined the term chatteling, and is the world's foremost expert in teaching people how to make big profits by buying and selling personal property,


He's profited from, and taught others how to profit from, the creation of short single informative sheets of paper, called hotsheets,


He's created and sold numerous info-products,


...and many others!
Get the new free Fly Low-Collect Dough UPDATE HOTLINE email newsletter
You'll find out many ways to make fast cash and quick profits


Apply what you'll discover, and you can transform your life for the better


It is only available by email
It's difficult to supply back issues (at this time), so please subscribe so you don't miss out on the issues.
TWO FREE GIFTS for subscribers... Two short reports, "Multiple Streams of Income" and "Secrets to Multitasking"...
Just enter your name and primary email below...
Published twice a week... The next issue will be out in the next few days!
(After you subscribe, you will receive a confirmation email. Click on the link in that email to confirm your subscription.)
Copyright © 2016 Seeds of Wisdom Publishing
Contacting Seeds of Wisdom Publishing. Email:

[email protected]

. Telephone: +61 4 1955 0447. Address: 20 Fernbank Cres, Mulgrave, VIC 3170, Australia.